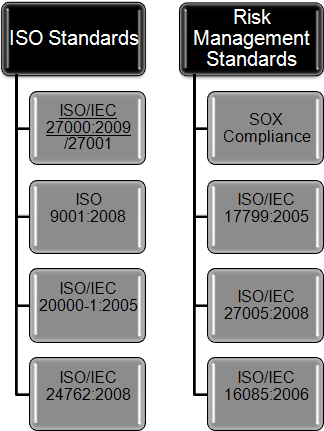 ISO/IEC 16085:2006
ISO/IEC 16085:2006 defines a process for the management of risk in the life cycle. It can be added to the existing set of system and software life cycle processes defined by ISO/IEC 15288 and ISO/IEC 12207, or it can be used independently.
ISO/IEC 16085:2006 can be applied equally to systems and software.
Risk management is a key discipline for making effective decisions and communicating the results within organizations. The purpose of risk management is to identify potential managerial and technical problems before they occur so that actions can be taken that reduce or eliminate the probability and/or impact of these problems should they occur. It is a critical tool for continuously determining the feasibility of project plans, for improving the search for and identification of potential problems that can affect life cycle activities and the quality and performance of products, and for improving the active management of projects.
ISO/IEC 17799:2005
ISO/IEC 17799:2005 establishes guidelines and general principles for initiating, implementing, maintaining, and improving information security management in an organization. The objectives outlined provide general guidance on the commonly accepted goals of information security management. ISO/IEC 17799:2005 contains best practices of control objectives and controls in the following areas of information security management:
security policy;
organization of information security;
asset management;
human resources security;
physical and environmental security;
communications and operations management;
access control;
information systems acquisition, development and maintenance;
information security incident management;
business continuity management;
compliance.
The control objectives and controls in ISO/IEC 17799:2005 are intended to be implemented to meet the requirements identified by a risk assessment. ISO/IEC 17799:2005 is intended as a common basis and practical guideline for developing organizational security standards and effective security management practices, and to help build confidence in inter-organizational activities
ISO/IEC 27005:2008
ISO/IEC 27005:2008 provides guidelines for information security risk management. It supports the general concepts specified in ISO/IEC 27001 and is designed to assist the satisfactory implementation of information security based on a risk management approach. Knowledge of the concepts, models, processes and terminologies described in ISO/IEC 27001 and ISO/IEC 27002 is important for a complete understanding of ISO/IEC 27005:2008. ISO/IEC 27005:2008 is applicable to all types of organizations (e.g. commercial enterprises, government agencies, non-profit organizations) which intend to manage risks that could compromise the organization's information security.
SOX Compliance (SSAE16)
The Sarbanes-Oxley Act of 2002 (often shortened to SOX) is legislation enacted in response to the high-profile Enron and WorldCom financial scandals to protect shareholders and the general public from accounting errors and fraudulent practices in the enterprise. The act is administered by the Securities and Exchange Commission (SEC), which sets deadlines for compliance and publishes rules on requirements. Sarbanes-Oxley is not a set of business practices and does not specify how a business should store records; rather, it defines which records are to be stored and for how long.
The legislation not only affects the financial side of corporations, it also affects the IT departments whose job it is to store a corporation's electronic records. The Sarbanes-Oxley Act states that all business records, including electronic records and electronic messages, must be saved for "not less than five years." The consequences for non-compliance are fines, imprisonment, or both. IT departments are increasingly faced with the challenge of creating and maintaining a corporate records archive in a cost-effective fashion that satisfies the requirements put forth by the legislation.
The following sections of Sarbanes-Oxley contain the three rules that affect the management of electronic records. The first rule deals with destruction, alteration, or falsification of records.
Sec. 802(a) "Whoever knowingly alters, destroys, mutilates, conceals, covers up, falsifies, or makes a false entry in any record, document, or tangible object with the intent to impede, obstruct, or influence the investigation or proper administration of any matter within the jurisdiction of any department or agency of the United States or any case filed under title 11, or in relation to or contemplation of any such matter or case, shall be fined under this title, imprisoned not more than 20 years, or both."
The second rule defines the retention period for records storage. Best practices indicate that corporations securely store all business records using the same guidelines set for public accountants.
Sec. 802(a)(1) "Any accountant who conducts an audit of an issuer of securities to which section 10A(a) of the Securities Exchange Act of 1934 (15 U.S.C 78j-1(a)) applies, shall maintain all audit or review workpapers for a period of 5 years from the end of the fiscal period in which the audit or review was concluded."
This third rule refers to the type of business records that need to be stored, including all business records and communications, including electronic communications. Sec. 802(a)(2) "The Securities and Exchange Commission shall promulgate, within 180 days, such rules and regulations, as are reasonably necessary, relating to the retention of relevant records such as workpapers, documents that form the basis of an audit or review, memoranda, correspondence, communications, other documents, and records (including electronic records) which are created, sent, or received in connection with an audit or review and contain conclusions, opinions, analyses, or financial data relating to such an audit or review."